The muscatel, Bodegas Antonio Llobell, receives the Gold Medal at the International Competition of Lyon 2014
Llobell Antonio Winery has been awarded the Gold Medal Competition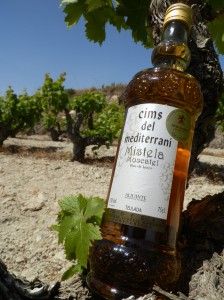 Lyon International 2014 por la mistela que producen conocida con el nombre de Cims del Mediterrani.
In this international competition, held last April, were presented 3.685 wine from 22 countries, donde Bodegas Antonio Llobell Cardona "Constantino" decided to submit his Mistela "Cims del Mediterrani", designation of origin Teulada (Alicante) and won the gold medal, siendo valorada por profesionales de reconocido prestigio como una de las mejores en todo el mundo.
Según el propietario de la Bodega, "We are very pleased by this recognition, and look forward with great optimism that this recognized quality, along with the expertise of the things that led us down this path, translates into greater recognition to quality agriculture, the efforts made by all farmers, and the Moscatel de uva Roof, desde nuestro punto de vista, unique worldwide".
Cabe destacar que el pasado año esta Bodega obtuvo la medalla de plata en el XI Concurso Internacional de Vinos Bacchus 2013 for the same product.